service
Trusted Foundation Repair in McKinney, TX
As foundation repair specialists serving McKinney, Texas, we have seen the damage that foundation problems can cause. Since 2008, homeowners across Texas have trusted our team at FCS Foundation Repair to provide permanent solutions to foundation issues like settling, cracking, bowing walls, and sloping floors.
Our certified engineers and technicians have the experience and expertise to diagnose foundation problems and implement innovative repair techniques properly. Using state-of-the-art equipment, we can stabilize and level foundations without disrupting excavation. We are committed to providing the highest quality foundation repairs in McKinney while delivering exceptional customer service. Homeowners can rest assured knowing their foundations are in good hands with our team.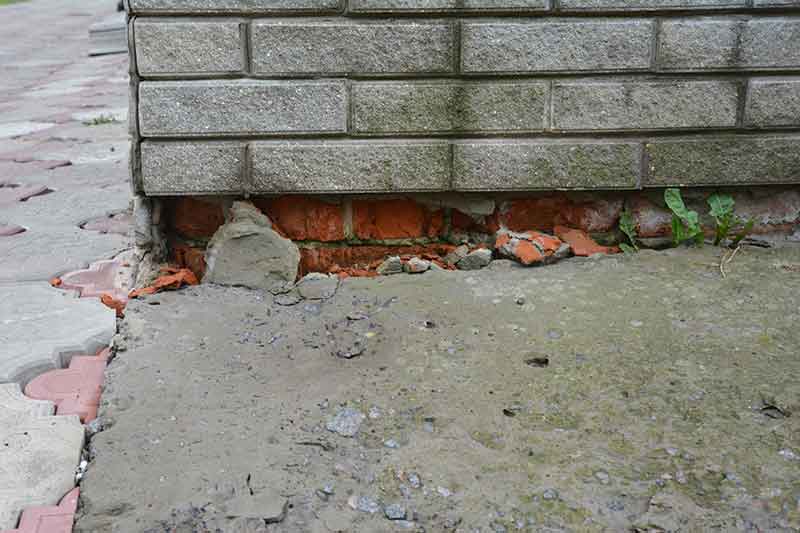 Why Choose FCS Foundation Repair?
At FCS Foundation Repair, we are certified experts in foundation repair solutions. Our engineers and technicians have years of experience diagnosing and repairing foundation issues.
As a homeowner in McKinney, TX, choosing a qualified contractor to repair structural damage to your foundation is crucial. FCS Foundation Repair has been serving residents in the Dallas-Fort Worth area since 2008. Our experts examine and fix foundation problems using new methods. They're certified in structural engineering and foundation repair.
We provide free foundation inspections and detailed structural evaluations. Our experts will study your foundation and suggest a personalized plan to fix and secure your home's structure.
We use advanced products and techniques, such as push piers, helical piers, wall anchors, carbon fiber straps, and foam injection. These methods are engineered to repair foundation damage and prevent future movement or cracking permanently.
Our work is backed by warranty. We stand behind the quality and longevity of our foundation repairs.
We are licensed, insured, and certified as an A+ rated business with the Better Business Bureau. Our excellent track record and commitment to customer satisfaction have earned us a reputation as the premier foundation repair company in McKinney and surrounding cities.
If you need an honest, experienced foundation repair company you can trust, call FCS Foundation Repair today. Our experts will check your foundation for free and give you a personalized plan to fix and secure your house's structure.
Common Signs You Need Foundation Repair in McKinney, TX
At FCS Foundation Repair, we have seen many signs that a homeowner's foundation needs repair. As certified experts in foundation solutions across McKinney, TX, our engineers and technicians have identified several common indicators that foundation repair is needed.
Cracks in walls or floors are often the first sign of foundation damage. Cracks that are wider at the top than at the bottom, cracks in a stair-step pattern, or cracks that run diagonally across walls frequently point to foundation issues. Doors or windows that stick or won't close properly can also indicate that the foundation has shifted and is no longer level.
Bowing or sloping floors indicate that the foundation has moved unevenly over time due to soil erosion or expansion. This can often be seen in the center of the house or over a crawl space. Noticing gaps between the floor and baseboards or door jambs that weren't there before is a warning sign.
Plumbing leaks or pipes that have come loose from the wall may be caused by foundation problems putting stress on the plumbing system. Outward tilting of retaining walls, porches, or patios shows the foundation moving outward and destabilizing the structure.
If you notice any of these indicators in your McKinney, TX home, it's best to have the foundation inspected by a structural engineer. At FCS Foundation Repair, our certified engineers can diagnose the issue, determine the cause, and recommend a permanent solution to stabilize your foundation and ensure the structural integrity of your home.
ADDITIONAL INFORMATION
Foundation Repair Methods We Use
Foundation Settlement
When foundations settle unevenly, it can cause cracks in walls, sloping floors, and warped doorways. We use piering to stabilize, and level settled foundations. Steel piers are driven deep into stable soil beneath the foundation. The weight of the foundation is then transferred to the piers, correcting the settlement.
Bowing/Leaning Walls
If your foundation walls are bowing inward or leaning, we use wall anchors and carbon fiber straps to stabilize and straighten the walls. The anchors are installed outside, along the wall. Steel rods are connected to the anchors and extend underneath the foundation, where they are firmly secured. The rods are then tightened to straighten and support the wall slowly.
Crawlspace Encapsulation
For crawlspace moisture control and insulation, we install vapor barriers and dehumidifiers. The crawlspace is sealed off from the outside, keeping moisture and pollutants from entering. Dehumidifiers regulate the humidity levels. This helps eliminate musty smells, wood rot, and pest infestation in the crawlspace. It also improves the energy efficiency of the home.
Slab Foundation Lifting
Concrete slab foundations can settle and become uneven over time. We use slab piers to lift settled slabs and level them. The piers are installed underneath the slab, and hydraulic jacks are used to raise the slab by fractions of an inch at a time. Steel piers or helical piers are installed to support the slab in its new, level position. Precision laser levels are used to ensure the slab is perfectly level and evenly supported.
In summary, we have various foundation repair solutions – from piering and wall anchors to crawlspace encapsulation and slab lifting – to stabilize, straighten, level, and support your home's foundation. Our certified and experienced technicians can evaluate issues, recommend repairs, and properly install the necessary foundation support systems to give you peace of mind for decades to come.
ADDITIONAL INFORMATION
Foundation Repair Costs: What Influences the Price?
Size and Condition of the Foundation
The size and current condition of a foundation directly impacts the total cost of repairs. Larger foundations that require more piers or beams to stabilize will cost more than smaller foundations needing minimal reinforcement. Severely damaged foundations also cost more to repair than those with minor cracks or tilting. Our engineers carefully evaluate the foundation during our free inspection to determine the best solution for your home's unique issues.
Cause of the Damage
The underlying cause of foundation damage also affects the price. Structural repairs for issues like soil erosion or improper drainage typically cost less than repairs for expansive clay soil movement, which requires more extensive stabilizing. Repairing previous foundation work or damage from plumbing leaks generally falls on the higher end of the cost spectrum as well. Our team of experts can accurately diagnose the cause of your foundation problems to provide the most effective solution at the best value.
Materials Used
The materials we use to repair and stabilize your foundation impact the total project cost. Steel piers driven deep into the ground and steel beams installed along foundations are very effective but more expensive options. Concrete grade beams and wood beams provide solid support at a lower cost. We select the ideal materials for your foundation issues based on our professional assessment of your home's structural needs and your budget.
Accessibility and Job Complexity
In summary, the factors that most influence the cost of foundation repairs include the size of the foundation, the severity and cause of damage, materials required, and job accessibility and complexity. At FCS Foundation Repair, we strive to provide the most affordable solution for your home's unique foundation issues. Contact us today for a free estimate!
FAQ: Foundation Repair McKinney Texas
What causes foundation issues?
There are several factors that can contribute to foundation damage in homes. The most common causes we see in McKinney are:
Soil erosion: Over time, soil under and around the foundation can erode, causing the foundation to settle unevenly. This often happens in areas with expansive clay soils that shrink and swell with changes in moisture.
Water damage: Excessive water from plumbing leaks, poor drainage, or flooding can saturate the soil and cause foundations to settle. The added weight of the water puts extra pressure on the foundation.
Tree roots: As trees mature, their roots extend outward in search of water and nutrients. These roots can make their way under foundations, causing damage as they grow.
Age: Foundations naturally settle over the lifetime of a home. After 50-100 years, it's common for foundations to settle significantly, leading to tilting, cracking, and other issues.
How do you repair foundation issues?
At FCS Foundation Repair, we use proven techniques to stabilize and level damaged foundations. The methods we most commonly employ include:
Piering: Installing steel piers that extend deep into stable soil below the foundation to provide support. We can pier entire foundation perimeters or isolated areas where damage is present.
Wall anchors: For bowing or tilting basement walls, we install steel anchors that attach to the wall and extend to stable soil. The anchors then stabilize and straighten the walls over time.
Foam injection: We inject foam into the cracks under pressure for minor cracking. The foam bonds and seals the crack to prevent further damage or water intrusion.
Waterproofing: If water damage has contributed to foundation issues, we waterproof the foundation and install drainage like sump pumps or French drains to divert water away from the structure.
Mudjacking: For uneven settlement, we inject a concrete slurry under the foundation to lift and level the settled areas. Mudjacking can lift foundations back to their original position without the need for excavation.
We thoroughly evaluate each foundation to determine the best solutions based on the age of the home, type of construction, soil conditions, and severity of damage. Our goal is always to provide lasting repairs that stabilize foundations for decades to come.
Conclusion
As an industry leader with over 20 years of experience, the team at FCS Foundation Repair has the expertise and qualifications to provide trusted, high-quality foundation repair services for homeowners in McKinney and surrounding areas. Our certified engineers and technicians utilize state-of-the-art techniques and equipment to diagnose foundation problems accurately and implement customized solutions to stabilize and repair foundations of all types.
Whether you need pier and beam leveling, slab foundation repair, or crawl space encapsulation, you can rely on our proven process to restore structural integrity and increase the value of your home. For trusted foundation repair in McKinney, call us today for a free inspection and estimate. We look forward to continuing to serve this community with unparalleled professionalism and care.