This post was written by our friends at HOMR, Dallas' leading home management platform.
As Dallas-Fort Worth's first 24/7 home management service, it's our job to take care of your entire home — even the parts you don't see or think about much. It's why we trust FCS Foundation and Concrete as the top provider of Dallas house foundation services.
And once FCS provides a quality foundation to your Dallas area home, it's our job to help you protect that investment. It's not always easy — the Dallas Fort Worth area brings a lot of challenges to your doorstep.
The clay soil that surrounds your home is susceptible to extreme cracking when dry, and retains a ton of moisture when wet. This leads to opportunities for foundation cracks, shifting and issues with your basement walls.
But don't worry! There are some easy steps you can take to avoid a foundation problem. We'll help you learn 5 simple tips to battle expansive clay soil conditions, monitor pooled water around your concrete slab, and avoid damage to your basement and crawl space areas.
Let's get started by talking about why Dallas soil is particularly troublesome to your home's foundation.
Why Dallas Soil Causes Foundation Damage
The majority of Dallas area soil is clay based. This type of soil has extremely small particles, which isn't ideal for home foundations. The composition of expansive clay soil presents 3 key issues:
Clay Soil Retains Water Easily. The clay composition of Dallas soil absorbs moisture quickly and takes longer to dry out than other types of soil.
Clay Soil Dries and Cracks in the Heat. Clay soil dries out easily during long hot spells. This leads to cracked soil conditions which opens pockets and gaps underground.
Small Particles Lead to Soil Movement. The tiny grains of clay soil move and shift more easily than other types of soil.
"The main priority is to balance the moisture in the ground," Rodrigo Duenas from FCS Foundation and Concrete Services explained to us.
The specific issues that DFW's clay soil can cause your home depends on the type of foundation you have. Depending on their ages, most properties in the Dallas area have a concrete slab or pier and beam foundation.
Dallas Slab Foundation Issues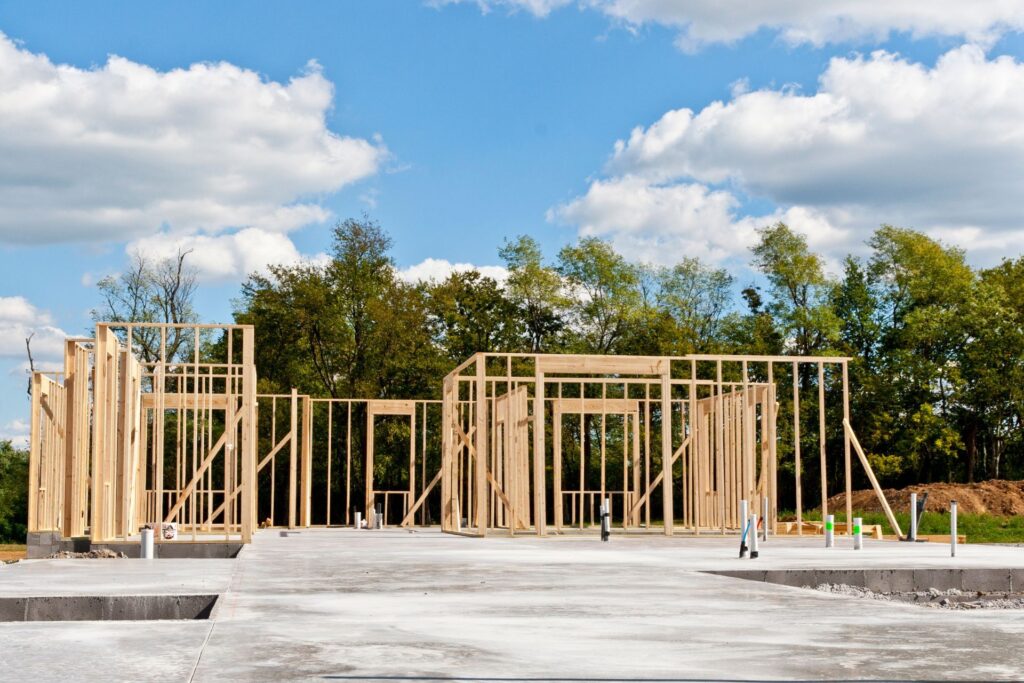 You'll find a concrete slab foundation under most homes built after 1980. Most Dallas area homes have slab-on-grade foundations, where the solid concrete slab rests on another layer of concrete that was poured directly on the ground surface. They are easier to install and save money due to minimal excavation work.
Dallas Slab-on-Grade Foundation Benefits:
Slab foundations are much cheaper to install than pier and beam due to decreased excavation labor.
The risk of insect and pest infestation is very low, due to the lack of wood in the structure.
There are fewer issues with moisture in slab foundations, as concrete doesn't warp and bend like wood and metal.
Potential Dallas Slab Foundation Issues:
Slab foundations aren't ideal for sloped tracts of land.
Repairs won't happen enough, but they're costly when they occur. Once a crack forms in your slab, it can travel throughout the foundation if left unchecked.
Concrete slabs are susceptible to foundation movement in flood zones.
Dallas Pier and Beam Foundation Issues
Pier and beam foundations are found on older DFW area homes built between the 1960s and 1980s. They include concrete piers that sink into the ground to provide a sturdy structural base. Wooden beams extend upwards from the concrete base to support the main floor of your home. Many pier and beam structures have steel rebar reinforcement.
Dallas Pier and Beam Foundation Benefits:
Pier and beam is an ideal building choice for sloped plots of land.
This foundation type gives your home a natural crawl space, which is an added defense against flooding.
If insulated properly, a pier and beam foundation is extremely energy efficient.
Potential Dallas Pier and Beam Foundation Issues:
While pier and beam foundations provide great flooding protection, they're prone to moisture buildup over time.
The wood-based construction leads to potential insect and pest infestation problems.
Pier and beam foundations are more expensive than slab foundations.
5 Tips to Avoid a Dallas Foundation Issue
Now that you understand why Dallas soil leads to foundation damage, and the type of home foundation you have, you're ready to create an easy plan to avoid foundation problems.
Here are 5 simple steps to create your own home foundation inspection checklist.
1. Check Your Property Slope and Install French Drains
The slope of your property is a huge deal. If you have a slab-on-grade foundation, the combination of a sloped yard and expansive clay soil leads to foundation shifting. If you have a pier and beam foundation, think of all that rainwater running downhill directly into your crawl spaces.
Your property will ideally slope 5% away from the home on all sides. If it doesn't, your foundation expert may recommend installing French drains on your property. French drain systems create a flow of water away from your home using a system of underground pipes.
There are 2 primary types of French drain systems — interior and exterior.
Interior vs Exterior French Drains
Interior French drains begin around the perimeter of your basement and disperse water away from the foundation. These are costly, especially if you have a concrete slab foundation. But they're worth the price if your foundation contractor says they're necessary — a quality French drain system prevents flooding, moisture buildup, and future foundation repair.
Exterior French drains are installed 2-3 feet below your lawn to divert rainwater away from your home. These don't begin in your basement, so they're generally 25-35% cheaper to install than interior French drains.
2. Invest in Quality Gutter Systems, Cleaning and Maintenance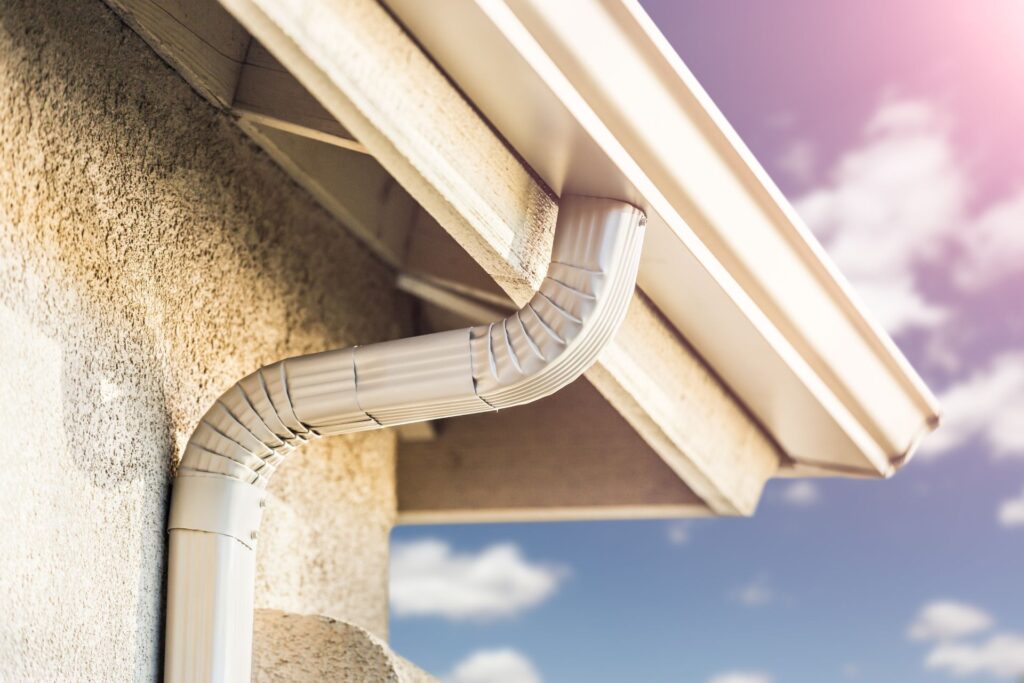 An inch of rain water doesn't seem like much. But on a 1,000 square foot roof, 1 inch of rain equals 600 gallons of water. Now, consider that the Dallas area gets 39 inches of rain a year — this is why quality gutters are vital to protecting your foundation.
Your rain gutters collect water from the roof and guide it to a series of downspouts. Those downspouts aim the water a safe distance away from your foundation.
If your gutters are bad, that water falls directly into the soil next to your foundation. That's a crecipe for a major foundation issue — basement wall leaks, flooding, and foundation cracks.
Mike Solano is the owner of Dallas Window and Gutter Cleaning. He sees a quality gutter system as the most important step in Dallas exterior home protection.
"Think of gutters as preventative maintenance," Mike says. "Get them done right once, and all your other exterior home costs go down for 20+ years."
Get your gutters cleaned and inspected once a year by a professional. Ask for an inspection by hand — it will reveal clogs and dents a less meticulous inspection can miss.
3. Check for Water Pooling Near Your Downspouts
Pooled water around your downspouts signals a potential foundation problem. That water sinks into your lawn, where it expands the clay soil directly adjacent to your home.
It's vital to keep that water away from your home foundation — especially an older pier and beam foundation. These pools attract insects, and eventually warp and bow your foundation walls.
There are 2 simple remedies for pooled water near your downspouts:
Downspout Strainers. Downspout strainers are a wise investment for Dallas home gutter systems. "It's a wire mesh ball we insert between the gutter and downspout," Mike Solano explains. "It stops leaves from clogging the downspout while still allowing drainage."
Splash Blocks. Splash blocks are the rectangular pieces of concrete, granite, vinyl or plastic under the downspouts of a gutter system. They're very inexpensive and divert water away from your foundation. Look at granite and plastic options, or ask FCS Foundation about concrete splash block options.
Rodrigo from FCS Foundation suggests your downspouts extend 6 to 10 feet away from your home to avoid erosion.
4. Invest in Smart Lawn Irrigation During the Summer
We've talked a lot about how heavy rain leads to expansive clay soil issues. But long stretches of Texas heat can lead to a foundation problem as well.
Dallas homeowners recently experienced a 72-day stretch where temperatures rose above 100 degrees. That extreme level of heat causes clay soil to crack and shrink — a potential cause of foundation movement and shifting.
When our type of soil shrinks, it creates voids and pockets in your lawn. These gaps leave room for your home foundation to sink into. This can lead to 3 primary issues:
Foundation Crack Damage. As your soil dries, it leaves space for rain water to pool underground during your next storm. This cycle leads to bows and cracks in your foundation wall system.
Insect Infestation. Bugs and pests love the pockets in clay soil — especially when they fill with water during the next rain storm. These insects can find their way into your basement and crawl space areas through small cracks in the foundation.
Foundation Settlement and Shifting. If soil movement around your home causes gaps to grow too wide, your foundation moves as well. As your concrete slab shifts, it can cause foundation damage — and in extreme cases, total foundation failure.
Invest in smart irrigation systems to avoid dry clay soil in the summer. Manage your sprinkler system via WiFi with smart irrigation controllers — popular brands include Rainbird and Rachio. They monitor the moisture levels of your soil and lawn surface, which protects against foundation shifts.
5. Keep Your Roof Line Clear of Debris and Tree Limbs
Clear debris and tree limbs from your roof line and eliminate the potential for gutter and downspout clogs. There are 3 specific things Dallas Fort Worth area homeowners should do once a year — and 1 thing you should never do!
Trim Back Overhanging Tree Branches and Limbs. Trim any trees that come near your roof line. This doesn't just protect against dented gutters and shingle damage — it keeps debris, bark, sap and pests out of your gutter system.
Trim Back Tall Shrubs and Bushes. This obeys the same principle as trimming your trees back — keep branches, sap and pests away from your gutters.
Check Your Roof Line for Mildew and Moss. Inspect your gutters and roof line once a year for signs of mildew, moss or algae growth. Scrub them away with gentle soap and hot water to keep the flow of rain water clear.
DON'T Use a Power Washer on Your Roof. Using a power washer on or near your roof can void the warranty on your asphalt shingles and your entire roof's warranty! Don't ever bring a power washer on your roof or point it at your roof line.
Protect Your Dallas House Foundation Investment
Your home foundation isn't like your bathroom or kitchen — you don't see it, and chances are you barely think about it. But it's important to know these simple telltale signs of a potential foundation issue.
At HOMR, we believe your only house-related job should be loving your home. That's why we offer 24/7 home management for Dallas homeowners through our home concierge app. We research, suggest, and schedule quality service providers for every type of home contracting project.
We're grateful to FCS Foundation and Concrete for this chance to help protect your foundation. We'll happily handle every home management need you have for just $9/month — come take a look.